Welcome to a new segment on the blog called Season Updates, which is a way for you to keep up-to-date on what's happening at the studio. This season, we have brand new classes, new mentors, new time slots, and a new Teen's Program schedule. See below for details.
---
Class Schedule Updates
Our class schedule looks a little different this season, and it's because we're offering a few more classes per day. Class duration is now 75 minutes long, and that means we're able to fit an Urban 1 slot into every day of the week, as well as new levels of Popping and Breaking. We are also excited to introduce Sassy Jazz—a class that focuses on free form Jazz technique with an added fierce spin. It's open to dancers of all skill levels, so give it a try and let us know what you think!
Back-to-Back K-Pop Classes
You spoke and we listened: K-Pop classes are back-to-back on Friday nights once again. K-Pop Cover classes start at 8pm sharp with Original K-Pop Choreo right after at 9:30pm. If you're new to the class, now is a perfect time to try both! Learn the latest K-Pop dances, channel your inner K-Pop artist, and connect with others in a fun and supportive environment.
Teen's Program Schedule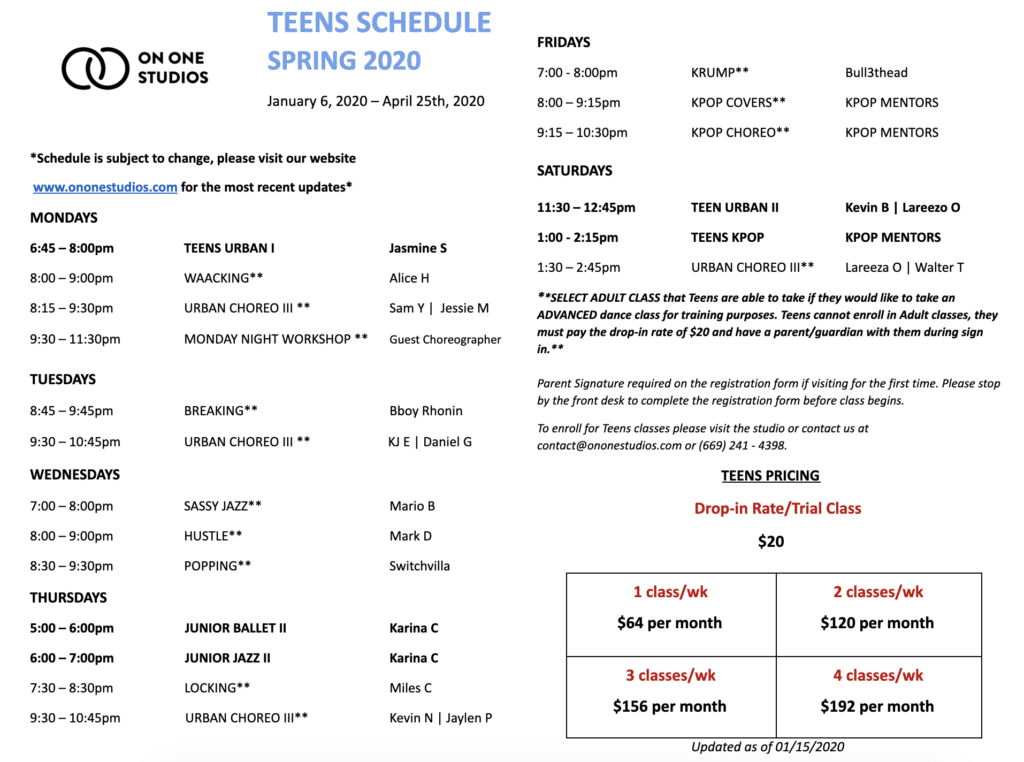 Here is the Teen's Program schedule for Spring 2020. Make note that any class with an asterisk is an Adult Program class that teens may drop into the day-of, so long as they arrive with a parent/guardian and turn in a consent form to the front desk, which you can find by clicking here.