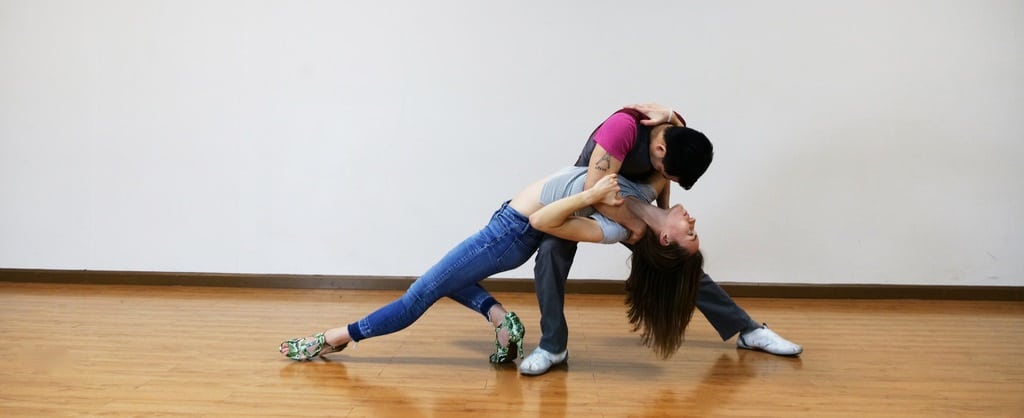 (B e g )  :  T u e s d a y s  ,  7 : 3 0 - 8 : 3 0 p m  |  ( I n t )  :  T u e s d a y s  ,  8 : 3 0 - 9 : 3 0 p m 
A popular form of dance with Caribbean roots, salsa blends mambo, cha-cha-cha, and other dance forms to create one fiery form of movement. On One Studios houses world-renowned experts who promise to teach you everything there is to know about salsa.
Exercise

Like other forms of high-paced dance, salsa builds stamina and endurance. It helps you release calories while relieving stress and releasing toxins. Salsa can be a great cornerstone to your overall fitness goals.

Muscle Development

Build muscle while dancing. Salsa develops focuses all major muscle groups: glutes, hamstrings, quadriceps, calves and core will be exercised to fast paced steps. Arms and torso must remain static for various lengths of time, toning one's upper body.

Rhythm

Build rhythm and balance. Music suitable for salsa ranges from about 150 bpm (beats per minute) to around 250 bpm, though most dancing is done at a higher bpm. Steps must be done to the music with precision and grace.
---
Bachata is a style of dance that originated in the Dominican Republic. The basics to the dance are three-step with a Cuban hip motion, followed by a tap including a hip movement on the 4th beat. The knees should be slightly bent so the performer can sway the hips easier. The movement of the hips is very important because it's a part of the soul of the dance. Generally, most of the dancer's movement is in the lower body up to the hips, and the upper body moves much less. In partnering, the lead can decide whether to perform in open or closed position. Dance moves, or step variety, during performance strongly depends on the music (such as the rhythms played by the different instruments), setting, mood, and interpretation.
Unlike Salsa, Bachata dance does not usually include complex turn patterns but they are used more and more as the dance evolves. The leading is done just like in most other social dances, with a "pushing and pulling" hand and arm communication. Hand and arm communication is better conveyed when most of the movement is performed by the lower body (from waist down); i.e. hips and footwork.
Bachata is commonly known by many as a very sensual dance. To most it may seem that way, however, that is not what it is intended to be taken as. Bachata is a dance, done by a person with another, to express the feelings one has for a specific other. It is believed by most, that the more smoothly and more frequently the hips are used and moved, the more feelings the individual has for the other. With that said bachata originated as a sort of "mating call," if you were selected for a dance of bachata, you were chosen as a mate, two dances with the same individual, "sealed the deal."
A b o u t   t h e   m e n t o r
Darwin Tengco
Dancer in Pretty Boys and Girls

Dancer in Seaon Stylist Dance Company (Michael Jackson tribute concert)


Director of Phunk Nasty




Director of and dancer in Dance Solutions




1st place winner of Puertorican Festival Salsa Competition in 2004
What will students learn from your class? Why should students learn from you?
The students will learn how to have fun with dancing in general. I will teach them the techniques, musicality and most of all build their confidence as a dancer.
What are your personal dance goals as a Mentor?
Provide all the knowledge I gained over the years to all my students and hoping they will do the same.
---
F r e q u e n t l y   a s k e d   q u e s t i o n s
---
Pricing:
$ 1 8  d r o p - i n ( p e r c l a s s )  |  F i r s t  c l a s s  f r e e  |  C l a s s  p a s s  v a l i d
Enrollment: $125 for Beginner Salsa, $130 for Intermediate Salsa and Bachata
Series 1: Jan 8th-Feb 26th, 2019 *enrollment available until 1/16*
Series 2: March 5th-April 23rd, 2019 *enrollment available until 3/12*
What if I pay the drop in cost, but decide to enroll after class?
We will deduct your drop in price from the enrollment cost.
Example: If you pay $18 the first day and want to enroll for the rest of the series, then $125-$18= $107 remaining to enroll OR $109.41-$18= $91.41 
---